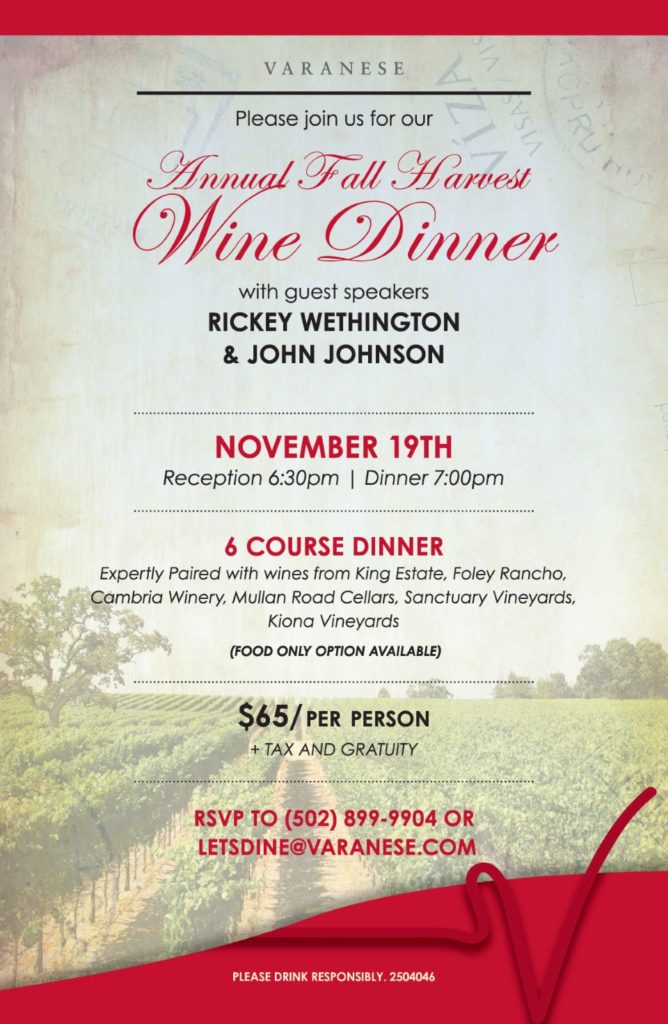 Fall Harvest Feast
First Course
King Estate, Pinot Gris– Willamette Valley
Smoked Pork Shoulder over a warm Pumpkin Custard
Topped with Chili Roasted Pumpkin Seeds
Served with a Buttermilk Biscotti
Second Course
Foley, Chardonnay, Santa Rita Hills
Sweet Potato Gaufrette Topped with Cold Smoked Salmon Crudo,
Buerre Blanc Dippin Dots and Lemon Zest
Third Course
Cambria Julia's Vineyard, Pinot Noir, Santa Maria Valley.
Butter Poached White Asparagus with Roasted Oyster Mushrooms
Topped with a 60 Minute Soft Cooked Egg, Shaved Cured Egg Yolk and Frisee
Forth Course
Sanctuary, Cabernet Sauvignon, Rutherford Napa Valley
"Turducken"
Turkey, Duck, and Chicken with Sausage and Cornbread-Sage Stuffing
Served with a Turducking Gravy, Butternut Squash Hash,
Cranberry Chutney and Sautéed Haricot Verts
Fifth Course
Mullan Road Cellars, Red Blend, Columbia Valley
Slow Roasted Beef Short Rib with Red Wine Braised Carrots and Parsnips
Served over Black Pepper Whipped Potatoes
Finished with a Natural Pan Sauce
Sixth Course
Kiona Vineyards, Late Harvest Riesling, Columbia Valley
Goat Cheese Zucchini Bread with Caramelized Pear Butter,
Sorghum Ice Cream and Candied Corn Nut Crumble
Executive Chef / Proprietor – John Varanese
Chef de Cuisine – Erik Abraham
Sous Chef – Callie Critchelow
Guest Speakers – John Johnson, Owner/Sommelier – The Wine Rack
Ricky Weathington, CSW. WSET. Republic National Beverage Co.